VI GETXO BOND
From October 4 to November 26
As on previous occasions, the Getxo Bono campaign has been launched again, being in this case its VI edition. Commercial, hospitality and service companies in the municipality can join the project. The term for the adhesion of the companies will be from September 5 until October 13. Additions after this date will not be accepted. For that:
Companies belonging to the Association must notify us in writing (info@getxoenpresa.com) of their interest in participating in the initiative, indicating in addition the name and address of the establishment or office.
Non-affiliated companies must fulfill this adhesion commitment and deliver it at the headquarters of Getxo Enpresa (C / Arene, 22) and we will provide them with the adhesive that identifies them as companies adhering to the project.
The period of purchase and exchange of the bonds in the establishments by the clients is from October 4 to November 26.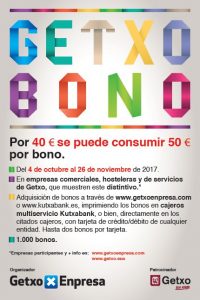 Customers can purchase up to 2 bonds per credit or debit card from any financial institution through:
www.getxoenpresa.com, www.kutxabank.es and printing the bonds at the Kutxabank multiservice ATMs
Kutxabank Multiservice Cash Dispensers Bonuses
Can also be reserved, and it is necessary to go and print them to a Kutxabank multi-service ATM by clicking here.
The bonds are cumulative in each purchase ticket or invoice, if the amount of the same exceeds the total value of the sum of the amount of the bonds:
For purchase tickets between 0 and 50 €: 1 bonus
For tickets between € 51 and € 100: up to 2 tickets
For tickets between € 101 and € 151: up to 3 tickets
In order to collect the amount of the bonds that the clients give to the companies adhering to the initiative, they must send to Getxo Enpresa a copy of the tickets / sales invoices with the corresponding voucher (s). The dates of payment to the companies and their corresponding dates of delivery of the mentioned documentation to the Association are established below:
| | |
| --- | --- |
| Fecha límite de entrega de documentación (bono/s y copia de tickets y/o facturas de compra vinculados a éstos) en Getxo Enpresa | Fecha límite de pago a empresas |
| Hasta el 17/10/2017 | 24/10/2017 |
| Hasta el 21/11/2017 | 28/11/2017 |
| Hasta el 01/12/2017 | 05/12/2017 (última fecha de pago) |
To see the companies adhering to the campaign, where to redeem the bonuses by the customers, click here.
The companies that participate in the initiative show the following emblem in their establishments or offices.