ROUTE PINTXOS 'GETXO VI TASTE'
ROUTE PINTXOS 'GETXO VI TASTE'
ROUTE PINTXOS 'GETXO VI TASTE'
From 2 to 5 and 9 to June 12
Residents and visitors can taste the proposals of the hoteliers of Getxo made with quality products amounting Euskolabel 1.5 € / pintxo.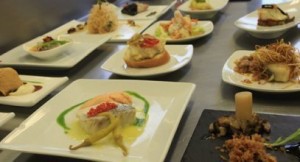 The Association provides the hotelier participating in the initiative Euskolabel the main ingredient to prepare the pintxo and sets by neighborhoods routes that facilitate the public to visit all establishments participating in the sixth edition of the activity.
In order to encourage the involvement of the public, when customers consume the pintxo linked to the initiative are sealed in a primer. Customers deposited primers sealed in the ballot boxes available for that purpose in participating companies. The prizes for customers are drawn randomly from the largest number of stamps from different establishments have accumulated in their booklets.