IV GETXO BONO
September 26 to November 30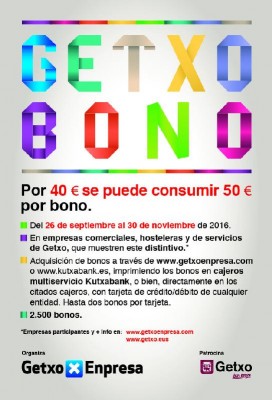 September 26  to November 30, the public can purchase and redeem in companies involved in Getxo IV Bono made the 2.500 bonds (40 € can be consumed € 50 per bond).
In order to encourage consumption in commercial, hotel and catering and municipal services companies, from Getxo Enpresa, with the town of Getxo, we undertook this initiative to make it easier for residents of the municipality, mainly consumption in local companies.
2.500 bond are available, customers can purchase through this website www.getxoenpresa.com or through www.kutxabank.es, printing bonds Kutxabank multiservice ATM  or directly in the multiservice ATM the aforementioned financial institution with any credit / debit card and two card maximum bonuses.
Companies participating in the initiative are the distinctive, we shown in this section, in their establishments or offices.