II GETXO BLACK FRIDAY: Film Discounts
II GETXO BLACK FRIDAY: Film Discounts
II GETXO BLACK FRIDAY: Film Discounts
November 23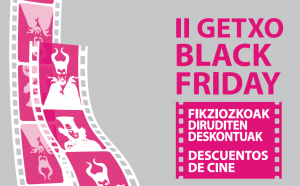 On Friday, November 23 and on the occasion of 'Black Friday' commercial companies, hotels and services that make discounts on the usual RRP or promotions on the products and / or services they market, can participate in the initiative.
The companies attached to the activity are identified with a badge and have gifts linked to the world of cinema to deliver to their customers. Actors characterized by well-known characters from the world of cinema perform various perfomances to inform clients of the companies that participate in the project and its location and the promotions / discounts they offer.
In addition, significant dissemination and communication work will be carried out with the same objective.