I EDITION: RICH & WIN
From October 23 to November 12
In the first edition of "Rasca & Gana Getxo" we want to promote the commercial, hotel and service companies involved in the project, whether or not they are part of the Association, and reward the trust and loyalty of its clients.
Customers who wish to obtain the "scratch and win" cards have to make purchases or consumptions for an amount equal to or greater than € 10 in companies that participate in the initiative. The winning cards contain prizes that are delivered directly in the same establishment and money vouchers that the gracious customer has to redeem at another participating establishment other than the one that gave the card.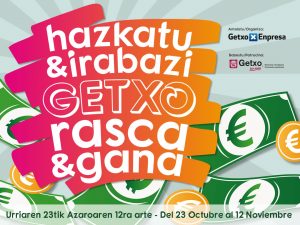 To see the list of companies that have joined the campaign "Scratch & Getxo Getxo" click here.