GETXO, ALL YOU NEED IS HERE
GETXO, ALL YOU NEED IS HERE
GETXO, ALL YOU NEED IS HERE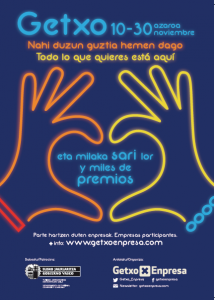 For 10th of November to 30th of November, all the costumers that buy or consume at least 10€ in trading companies, catering companies or service companies that are going to participate in this project, can have awards.
The prizes that some of the tickets are going to have, are going to be tickets with money to use in other participant companies, that is to say, each participant is going to give tickets of other participants. In some cases, the companies that they want can contribute and provide money-tickets to use in their own companies.
Customers can use their money-tickets in the participants' companies until 31 of December.