Bono Denda Christmas
From december 11 to january 31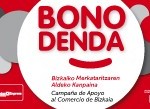 The second edition of 'Bono Denda' program in 2015 supports consumption in the retail and service contracting companies related to hairdressing and personal image, dry cleaning, laundry and photograph of Bizkaia.
Until January 31, 2016, consumers can purchase at most 2 'Bono Denda' by credit card or debit card of any entity without additional cost in the multiservice ATM Kutxabank (BBK) either by: www.kutxabank.es
The cost of each 'Bono Denda' is 40 € and entitles shopping or eating for exceeding € 50 value iidentified that show this distinctive from outside their establishments.
Each 'Bono Denda' can only be done effectively in a single act of buying and or service contract and customers can not require member companies to return them money, if your purchase does not reach the 50 €.