29 Getxo Showcase Contest
29 Getxo Showcase Contest
29 Getxo Showcase Contest
From november 18 to 31 december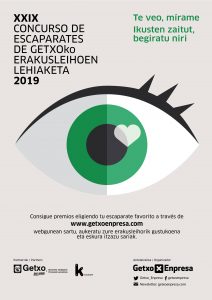 All the companies of the municipality can participate, whatever the sector of the economic activity to which they belong, COMMERCE, HOSPITALITY and SERVICES, that have PHYSICAL ESCAPARATE, understanding as such the elements of the establishment visible to the public from outside it, include or not a space to display products; and / or VIRTUAL ESCAPARATE, this being the web page and / or the profile / s of RRSS of the company.
More than hundred companies of Getxo gain access to almost more than thirty awards, in every annual edition of this contest. These awards are: trips, Christmas hampers, gift cards , trips in sailing ship, advertising spaces and so on.
Each edition, of the contest of windows display of Getxo, is provided with two types of Juries the professional Jury and the popular Jury. The last one is composed by thousands of persons who vote for their favorite windows display, so much physical as in the web one. These are those, who determine, almost about, the thirty of winning window displays every year. The persons who integrate the popular Jury take awards as a gratitude for their help, support and implication in Getxo Company too.